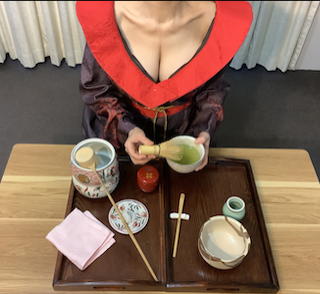 I came from a family of four generations of geisha 芸者 in Japan and worked as a maiko 舞子 (apprentice of geisha) in Akasaka 赤坂 (an upmarket district in Tokyo) for a short period of time. I believe I am the first and the only geisha in Australian history. In my unique 'Geisha Experience' service, I will perform the following:
Tea ceremony (茶道 sado), with Japanese imported special green tea (抹茶 matcha), the highest class and most expensive green tea in the world. While I am serving you the tea, we can also discuss Japanese tea culture and history, which is related to zen (禅) spirit.
I can also introduce you to the details of Japanese geisha history and culture (芸者の歴史と文化), and explore with you the interesting and peculiar differences between western and Japanese sexual culture. After that, I will do the traditional geisha performance: singing and dancing, with Japanese traditional ballad enka (演歌).
If you wish, I can play piano for you as well, including my own compositions. I can also sing extra songs for you in three other languages: Italian opera, English, and Chinese (Mandarin).
$1000 for 2 hours, by cash, Beem It, PayID or bank transfer.